Miles and Beryl Smeeton were perhaps the most adventurous couple of the 20th century. Separately and together, they traveled around the world by boat and on foot along some of the most dangerous routes, trekking across China and sailing around Cape Horn.
While the couple wrote several travel books, little has been written about their lives. Writer and photographer Miles Clark, who died in 1993, documented the couple's adventures in High Endeavours: The Extraordinary Life and Adventures of Miles and Beryl Smeeton.
This book did quite well in putting so much adventure and travel into 400 pages. Besides giving an in-depth look at the lives of these two amazing people, it detailed their excursions through diary entries, letters to and interviews from friends.
Starting around 1931 India and crossing overland to England by 1934 together and another cross-continent trip in 1935 is just the beginning. The solo trips of Beryl from Moscow to India via Japan in 1936-1937 and southern Patagonia by horse in early 1938 is when she really got to traveling.
Reuniting after they both served in the military in India and mid-east, they took up sailing and managed Australia to South America in 1958. Then another trip from England Around the World in 8 years(1959-1964) via an unconventional route, finally settling shortly in Vancouver. Nevermind the 2 demastings and one somersault by boat.
Not to be tied down, there is many more adventures that i can't begin to explain now, but lets just say that Miles makes it to Quebec from Vancouver on the Northern route. This is most certainly a pale review in what it contains. It actually made my head spin trying to comprehend all they have accomplished over the years. i highly recommend reading this book, if not for amazement, but also the style in which it was put together by their loving relative.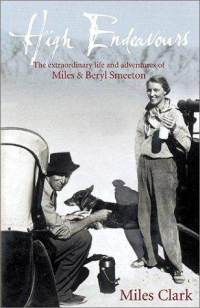 Format: