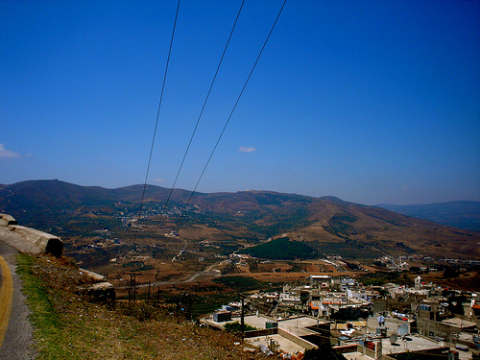 Hitchhiking in Syria, a medium-large country in Western Asia / the Middle East, can be considered "very easy" for foreigners, although drivers might not always understand the concept or reasoning behind hitchhiking.
In urban areas, busses are the most frequented form of transportation, used by everyone, and are considered very inexpensive by Western standards. Locals often don't understand why foreigners would attempt to traverse distances without busses, and therefore generally assume that a hitchhiker is simply a misplaced tourist in need of assistance. Fortunately, owing to a great culture of common hospitality, these drivers still respond easily, and stop their cars to help hitchhikers. However, in the more rural areas, such as the mountains and desert, hitching a pickup is extremely normal due to the absence of public transport. In most cases, nevertheless, drivers tend to be happy to oblige, and so, hitchhiking is "undifficult" and simultaneously "not simple".
As with hitchhiking in any foreign country, language is power. It's wise to learn at least some basic Arabic to communicate with locals. Few people speak more English than a single phrase (such as "Welcome to Syria!"), and gestures might be misinterpreted or simply not understood. Still, there is sometimes the off chance that older residents have studied French several decades ago and can recall enough to facilitate normal communication. Learning some sentences in Syrian-dialect Arabic to explain hitchhiking intentions will go farther than not. Conversation is warmly received and appreciated.
To avoid confusion and time delays when hitching out of a city, it is advised to stand by a road where there are no other people or houses around. Otherwise, hitchhikers may find themselves the subjects of local curiosities and invitations to tea that turn into police interrogations. If police or military personnel are summoned, it is probably with the best of intentions, and when those in authority profess hitchhiking to be "illegal", it is also probably "in order to protect" the foreigner whom they deem to be vulnerable. Those conversations can be avoided if the hitchhiker starts thumbing at a spot that is adequately desolate.
Border Crossing
Most European passport holders can get their visa directly at the border, but of course, check your local embassy for updated country-specific visa requirements. When entering Syria, tourists will receive an entry/exit card that they need to hold onto in order to leave the country. Purchase of an exit/return ticket is also required in order to leave the country. In most cases, they can be bought in small minimarkets just in front of the customs passport controls. As of August 2008, the price for an exit card was 550 Syrian Pound (500 SYP exit card, 50 SYP taxes).
Turkey borders Syria to the north.
Hatay checkpoint: This checkpoint is easy to reach via Reyhanlı (Turkey). Passing the border by foot is no problem, but it might be wise to hitch a ride after crossing the Turkish checkpoint, the distance to the Syrian checkpoint is around 4 km. Behind Syrian controls, hitch toward Aleppo (~65 km). Don't wait for trucks to pass the border and give you a ride, you can be much faster with walking to the next village and catching a ride with some motorbikes or pickups.
Kilis checkpoint: The northern checkpoint with Turkey, easy to reach from Aleppo (~70km). The different checkpoints here are within walking distance of eachother. Be aware of street dogs. When traveling from Aleppo, also be careful in the city of Azaz and surrounding area near the border. More about it at the specific Azaz city article.
Lebanon borders Syria to the south-west.
Masnaa checkpoint: The only open checkpoint with Lebanon on its western border. It is located directly on the highway Damascus-Beirut and is very easy to hitch. Get a ride to the border, where many cars will wait to get over the controls. Just talk to people who have an empty car and get a ride to Beirut, where nearly everyone here goes. Exit cards can be bought in a little supermarket just before the controls. Be aware of Jordanian taxi drivers.
Aaboudiye checkpoint: Checkpoint in the north of Lebanon and north-west of Syria, might be a choice if you come from Tartous or Aleppo going to Tripoli or Beirut. It is a small border checkpoint, with roads in very bad conditions. Aside from taxis and busses, there isn't much traffic at all. Take care! Platschi recommends to take the Masnaa checkpoint, which in fact is much further away (if coming from Hama/Homs or Aleppo), but also possible to hitch in one day if the ending destination is Beirut.
Jordan borders Syria to the South.
Daraa checkpoint: It is not permitted to walk across the border, and any cars going across must have a formal manifest of all passengers. The guards on the Syrian side are generally not willing to allow a hitchiker to stand at the border gate to wait for a car, and any car willing to drive back into the city to add your name to the manifest at the transportation office will want money.
Iraq borders Syria to the East.
Iraq has three border checkpoints with Syria: one near the town of Abu Kamal, another near Attanf, and a third in the north-eastern corner of the country. There are good roads to travel on in the case of the first two. To enter Iraq, a visa must be purchased in advance, as visas are not obtainable on arrival at the borders.
---
source: adapted from http://hitchwiki.org/en/Syria
Format: