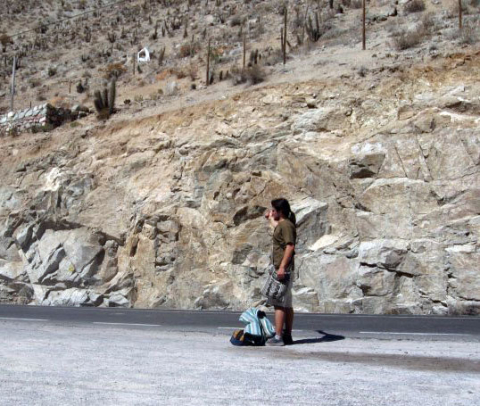 I understand that South America may not be the first destination that comes to mind for many travelers. Often, people eagerly share their European or American adventures, and some even mistakenly view the USA as the entire continent. However, I'm here to enlighten you. South America is a treasure trove of breathtaking landscapes, lush rainforests, diverse wildlife (yes, even presidents!), and an array of climates that defy easy enumeration.
It's nearly impossible to capture the full scope of what this beautiful continent has to offer in a single passage.
In this story, I was in Chile, a country located in the southwestern part of South America, bordering the Pacific Ocean. Stretching over 6,000 kilometers of coastline (though our journey covered only about 2,000 kilometers), Chile's weather defies easy generalization. Nevertheless, we can broadly categorize it as follows: the north typically experiences hot and arid conditions, boasting the Atacama Desert, the driest desert in the world. The central region enjoys a mild climate and is the most populous area, home to over 40% of the nation's total population. Heading south, you'll encounter a rainy and colder climate, with stunning forests, lakes, volcanoes, and snow-capped mountains.
My adventure in Chile began in the northern region, where I embarked on a hitchhiking journey with two friends, Belen and Carolina. Our expedition started in Santiago, the capital and, unfortunately, one of the most polluted cities in Chile. It was our first time hitchhiking, and our inexperience was unmistakable. We awkwardly attempted to hitch a ride in the heart of the city, near the Gnral. Velasquez highway. After waiting for about two hours without success, a kind soul advised us to head to the city's outskirts—a sensible move, in hindsight.
So, off we went, and on the Ruta 5 in Quilicura, a friendly truck driver offered us a ride. Our first destinations were Coquimbo and La Serena, both located 450 kilometers away from Santiago. These areas are renowned for their papaya production, and you can even find liquor made from this delicious fruit, which combines sweetness and strength. La Recova is a great place to explore local craftsmanship with an Andean touch. Mornings in the region are often foggy, but afternoons are typically clear. The beaches can get quite crowded, but my personal favorite is La Herradura – a peaceful and secure spot. Be cautious, though, as there may be jellyfish in the water; fortunately, I didn't encounter any incidents, but I did spot several on the sand.
The local nightlife in Coquimbo and La Serena is vibrant, with plenty of people ready to "carretear" (party) throughout the night. If you're a foreigner, especially if you have blond hair and blue eyes, you're in luck – Chileans are generally enthusiastic about meeting people from other countries. They may affectionately label you a "gringo," mistakenly assuming you're from the USA, but it's an excellent opportunity to educate them about other parts of the world. What struck me was the presence of many fellow travelers, particularly at hostels. Even if you don't speak Spanish, you'll likely find some compatriots at these hostels.
Continuing in the same region, we explored Valle del Elqui, arguably one of the most enchanting places to visit. This area boasts numerous vineyards and is renowned for having some of the world's clearest skies, a fact endorsed by scientists, not just national pride. The stars here appear larger than life, creating a mesmerizing spectacle. I highly recommend a visit to Rancho Rodriguez, a camping site where young people gather for lively evenings. Other camping sites are more family-oriented, offering a different vibe. At night, bonfires light up the atmosphere, and if you play the guitar, you'll find a warm reception. However, one challenge in Valle del Elqui is the scarcity of truck traffic, which leaves you reliant on car drivers. I vividly recall having to walk approximately six kilometers before finding rides to Vicuña and then Paihuano, turning a three-hour bus journey into a six-hour adventure.
After having spent one week in Coquimbo we decided to move on. We waited at a gas station next to ruta 5, until a truck driver who was going to Iquique (1.330 km away from Coquimbo) picked us up. While heading north, we could see the desert landscapes of the north. We stopped to sleep in the middle of Atacama Desert, the driest in the world. I have to say that at night it's really chilly. So make sure you have a warm sleeping bag and a good tent. After a while on the road, it seems that you're not advancing on your trip, 'coz there's only desert to see. However, it's really worth traveling through this part 'coz there are high dunes!! The second highest dune, El Medanoso, is here. So if you like sandboarding this is for sure the place to be.
Iquique is such a lovely city. Its beaches are warm and just in case you're wondering, in Chile there are no sharks, so you can swim with no problems. If you like surfing you may have to go somewhere else, 'coz the beaches are really quiet in Iquique (but if you go to Pichilemu in Chile that's another story). There are buildings that date back to the 17th and 18th century (my country isn't as old as European countries). We spent two day in there. I have to say that couchsurfing was very useful; you should try using this website. We saved lots of money in accommodation. And the Chilean couches are very welcoming. Thank you all guys!! I've heard that WWOOF works really well too, and it seems more interesting too 'coz you go to organic farms (you have to grow your own food). There are many organic farms in my country. So why don't you give it a try (I was at one of these communities and they are such good people, they won't even harm a fly 'coz they love nature).
Then, we continued our trip to the north. The next day we wanted to go to Arica. To get there, we had to travel from Iquique to Humberstone, 'coz there isn't any direct route between Iquique and Arica. Humberstone is a really interesting little village where saltpeter workers used to live. You can visit the old facilities of the saltpeter company. A ghost town if you like. Hitchhiking there was difficult 'coz there is a lot of traffic. And, for what I heard, they usually don't pick people up there 'coz they may have drug. As this place is near the border between Chile and Peru, there's a lot of drug dealing. We had to resign and pay for a bus to take us to Arica.
And finally we got there!!! (About 300 km away from Iquique). Arica is called "the city of the everlasting spring"…. And it really honors its name. It's really quiet and the rates of delinquency are low in comparison with other places of Chile and Southamerica. There you can find some buildings designed buy Gustave Eiffel himself (the cathedral made of metal and the ex customs). From the Morro de Arica, the highest hill of this city, you can see the whole city. It's really worth. If you haven't been there you're missing out. The casino is really fun too (but as we didn't have much money, we didn't bet) there's is a free karaoke underground where they play popular song. There are competitions too, and you may find really good singers. Afterwards we went to Tacna, Perú. It's really shocking to see children selling you craftwork and offering to polish your shoes for little money. They even offered me to polish my sandals!!! And that just crossing the border between Chile and Peru. I also have to say that Peru is really cheap; five soles are worth two dollars. A packet of 20 cigarettes costs 3 soles (a little bit more than a dollar), and you can have lunch for 2 ½ soles (that's one dollar).
Well, in general, Chile is also a cheap country for people from Europe and the USA. The minimum wage is about 160.000 Chilean pesos (about 320 bucks). That's more or less what you have to pay to rent a good house and pay your bills (you'd not survive with that in Europe). In most places you can have lunch for 1.000 pesos (2 bucks). But it's also one of the most expensive in Southamerica, together with Brazil and Argentina. But that's not the topic of this writing; I just want you to have an idea of what's like to live in Chile.
On my way back I was really sad. I wanted to go to Bolivia. But I didn't have more money. I went on this trip with only 60.000 pesos (about 120 USA dollars) so, as you can imagine, I didn't have many chances to go on (until that moment we had spent three weeks travelling). The last three days I only drank water and ate one piece of bread per day… and I won't talk more about money!! When you're hitchhiking you learn how to live without much of it. Money just comes in handy to eat and to pay for a bus if nobody takes you, but nothing else.
If you want to know something else about the north, don't hesitate to contact me. I can give useful tips on where to "take" transportation and where you have to be careful.
Que tengan un buen viaje y nos vemos en la ruta
Format:
Tags: