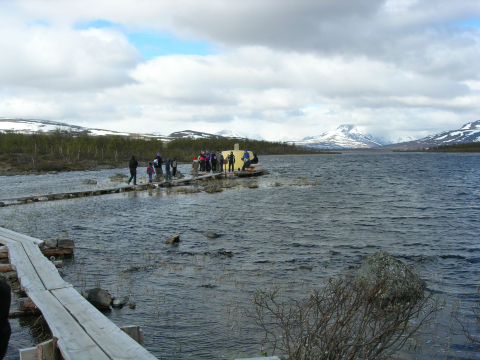 I was on a mission - I wanted to see the midnight sun as far North as I could make it during its solstice, when the position of the sun reaches its northernmost extreme in the sky
Just 4 days before this event, I was close to Stockholm in Sweden, after getting side-tracked for taking any car along the route from Copenhagen. If I wanted to get really far North, I had to cover a lot of distance, fast. For that you want to ride the E4 highway, that runs through all the towns on this path, if you are to cover distance in Sweden.
With the time of the solstice creeping closer and closer, the sun was magnificent in the late evening/early morning. One night I camped next to the water. It was breathtaking the way the sun dipped behind an island out in the water for an hour, before starting its climb back up for the day.
(Factbox: In Sweden, the Allemansrätt (lit. All men's right) has existed for many centuries only as a customary law. But since 1994 it is part of the Swedish constitution. As in other Nordic countries, the Swedish right to roam comes with an equal emphasis being placed upon the responsibility to look after the countryside; the maxim is "Do not disturb, do not destroy".)
There wasn't much time left. When looking at a map (which I rarely did) all the cities look just a short ride away. But when you are riding in the car and have an end goal, it takes forever. Even catching a bus for 100km for a better spot was worth it for me. Sometimes you just have get moving and I like to let the wind blow me where I go.
From Stockholm to Lulea on the top of the Baltic Sea and halfway my most desired route, took me two and a half days. If I wanted to get far North, I needed more wind!
Having contacted someone on the internet before arriving in Lulea proved to be the key element in my mission. It just so happened that he had the weekend off, owned a car, and if I paid the petrol cost, he would drive all the way past the Arctic Circle and up to Tromso Norway, instead of Nordkapp (which is a popular ending point for travelers). Yeah, I was on it!
We packed our bags early and headed for the Svensk and Suomi border, over the main road that runs along the political 'line in the sand'. Or should I say line in the forest, as for almost 12 hours we drove through some of the most pristine and beautiful woods (which looks a great deal like Northern Minnesota where I'm from).
After a while, I noticed something strange about these trees. They were starting to grow in odd ways. The branches were twisted and turned in weird angles to the sky. It must have something to do with the magnetic pull of the earth at that latitude. Being turned toward and away from the sun for months at a time may also play a part in that.
We continued on this road until it crossed the tri-state area where Sweden, Finland and Norway all come together. There were no stamps issued into our passports, but our possessions and car were searched by the border-patrol because I was wearing a simple "THC" patch on my jumper.
I guess that was enough to cause suspicion. Not having found anything, they gave us a, "have a great time in Norway" farewell and we were off again, with wild reindeer crossing the road as if we didn't exist in 700kg of metal.
And finally we got sight of Tromso, our destination. A great city on a fjord split by water with a huge bridge connecting both sides. This was my solstice. But without much sun. Being a coastal city, there was lots of rain, fog, snow and mist. All of nature's finest elements combined, preventing us to see the sun at its highest...
Just enough time
Daniel and I decided to head back to the tri-state area for that time. It was a sad moment leaving there, taking the same road back the way we had come. I try to never back-track, it seems counter productive. We took the 45 minute boat ride instead of hiking the 11 km to this point. (See picture).
Being free-minded wanderers in the vast wilderness, we missed the boat returning and got stuck out in the secluded pure nature for another 3 hours. It was a very serene time where we got to know each other well. He is about to sell all his possessions and is planning a trip to Thailand later in the year to be a certified dive instructor.
We drove back to his house another route so he could show me more of the countryside. As we ended our trip together he offered me a high quality rain/wind jacket for the stories traded, which fit nicely, and dropped me off by the side of the road. I really enjoyed meeting him. Sometimes I feel there are too few open-minded souls willing to take a chance with a complete stranger to help fulfil a dream.
It was another 2 days back from Lulea to Stockholm hitchhiking, barely making it in time to meet a good friend Svensk-Nomad by the name of Joel, or The Dude, who was on a trip of his own, visiting family in Mora.
Two travellers coming together and joining paths for a little while; he was doing one of those "Rental Car Returns," so we drove back to Copenhagen airport that day crossing at Helsingborg with no cost for petrol, just the ferry fee.
In total this trip lasted about 10 days and I crossed a great many Swedish melee. One Swedish melee is 10km. If you go traveling through Sweden, be aware, that when a native tells you the next city is 25 melee, that really means 250km!
Format: