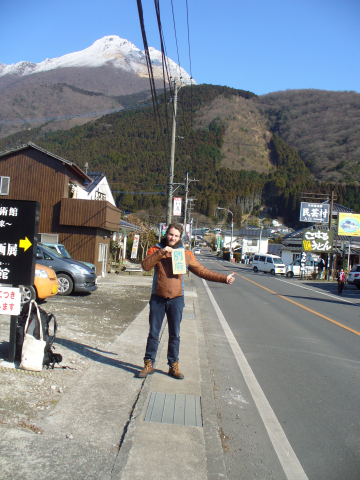 A ridiculously inexpensive flight from Milan to Tokyo and back, my backpack, a fluent-Japanese-speaking girlfriend wwoofing on a tropical island in southern Japan who is waiting for you (while Europe is buried in snow), and a copy of Will Ferguson's book "Hitching Rides with Buddha" [1]. Pretty much everything you need for setting out for a trip to Japan. And here I go.
Ferguson's book is brilliant. It has all the features that I happen to like in a book: it's well written, funny, educational, useful, it tells a damn true story. I just had to read it before starting my trip, although my timing and the season did not allow me to go all the way to Hokkaido. And by the way, you have to do something during those 12 hours you're forced to sit in the plane, so you'd better have something good to read if you don't want to watch Bruce Willis saving the world for the 348th time on a 10-inch-screen with the audio resolution of a tamagochi. But the book needs some updating. That's why I'm telling you the story of my hitching in Japan.
Ignorance
My ignorance about Japan was already creeping me out before I got there. The weirdest thing about me going to Japan was me going to Japan. The only reasons I decided to go are those mentioned above. Secondly, I decided to fly just after having solemnly stated that I would never set foot on an engined aircraft again. Planes are bad for Mother Earth, I sentenced. Besides, I took two, because I also flew from Tokyo to Nagasaki on the day of my arrival.
For someone concerned about the environment, Japan really forces you to rethink your resolutions. In Japan, you have the Shinkanzen, the bullet train. It's almost as fast as flying and it seems to be more sustainable. But apparently, only people with super-sized bank accounts can afford to be sustainable (the fare from Tokyo to Nagasaki is almost the same as the popular JR pass for the whole of Japan). Poor me. So I decided that hitchhiking back from Nagasaki to Tokyo would have helped me pay back my ecological debt. And if it really is karma, what this is about, then I will certainly hitch from Italy to Japan and back in my next life; I promise.
Rock Stars
Yes, Japan is an excellent country for hitchhikers. People treated us like rock stars and we started living that part so much, that we printed pictures of us with the wooden plank we used as a sign and our autographs on them, and would give one to each of our ridegivers as business cards (professional hitchhikers, yeah).
We may as well have been the only two people hitching rides at that time in the country. Then we met Brian from the States and realized we were three. We stood on the road laughing about that summer when as a group of four we hitched three consecutive rides into Berlin, all together, thinking it was impossible. In that very moment, a car pulled over and took us all three aboard, and took us to the spot where we stripped naked in a steaming cave and soaked our bones in 50-degrees-Celsius egg-reeking water. For sure, we were the only Westerners. But not because the Japanese wouldn't stop for Japanese hitchhikers, like so many people think: it's because the Japanese are so proud. Even if they think it's super cool to see us foreigners raise our thumbs, as if they were watching a Hollywood movie, they would feel somewhat like being begging for money if they did it themselves.
It is also not true that you shouldn't use a sign in Japan because people will otherwise think they should stop only if they are going all the way to that very place. If that were somehow true, then it's all about writing the right thing on it. But the traffic was usually so thick in most of the places we hitched from, that it never took longer than a reasonable waiting time to be picked up by someone going to that very destination. Or willing to take you there, like that guy that drove us 50km from Matsuyama to Niihama, paid the ridiculous highway fee, and then said that he was actually from Matsuyama and drove us all the way there and was then driving back because "nobody picks up hitchhikers here". This is a popular statement in Japan, and as a hitchhiker, you have to hear it quite often and slowly learn to put up with it. But he was not kidding: the reason why he took us was that he hitchhiked himself once and nobody would stop for him. Good karma.
Hard to get
In fact, Japanese hitchhikers exist, unlike it is often stated. Unlike Japanese vegetarians. Those Japanese vegetarians died long ago and reincarnated in some Manhattan-born Hollywood stars, or live in London and married John Lennon and then build the Peace Tower off the coast of Reykjavik in Iceland (I swear).
Trying to explain a Japanese why you don't want to eat meat is as hard as explaining them that the fact that the Japanese import tuna all the way from Europe doesn't necessarily mean that the Mediterranean is teeming with tuna, but only that the Japanese are willing to pay huge money for their ubiquitous tuna flakes just like they sail to Antarctica for catching whales. They just don't get it. Oh, and forget about macrobiotics, or healthy Japanese food. There is a reason why George Ohsawa and Miko Kushi (the theorists of macrobiotics) and Masanobu Fukuoka (the developer of he no-till cultivation method at the basis of permaculture) got so popular in the West. Nobody knows about them in Japan, and in the few (American-owned) macrobiotic restaurants in Tokyo you will find soy milk from the US, grain from Canada and honey from New Zealand. Ohsawa, who said that food should come from maximum 16km away from its eater, is definitely rolling in his grave.
What does indeed exist is a few thousand naive vegetarians and vegans from the West who daily dream of Japan's tofu and one day will find out that the only time you will ever eat tofu in a Japanese home is when it's sadly swimming in a fish broth of some sort, amidst crab and lobsters' claws, and a bright pink and white ground fish pie that somehow pops up in every dish.
The price you pay
Don't even try to mention seitan (gluten steaks), nobody knows what it is. Of course, there should be shojin ryori (the traditional Buddhist vegetarian cuisine) somewhere out there in a temple, but you have to book in advance and apparently I won't be able to afford it until I will earn as much as Sting does (how often vegetarian dishes are absurdly more or just as expensive as meat dishes always disgusted me, but in Japan it's even more extreme). One day, my girlfriend found a website advertising shojin ryori for only 700 yen (about 5€). We got to the temple on my last day in Tokyo, enthusiastically, but found some fish in the menu. So I said I was not going to eat fish (beside ideology, I was not there to eat fish), and what I was then given was a bowl full of meat. I was baffled. The waiter was petrified, and was so sorry for having given me the wrong food that eventually charged me more for having asked to change the meat for vegetables and rice porridge. When my girlfriend said that we were there because the website said there was shojin ryori and we were sorry for the misunderstanding, the cook took it so seriously that she replied to her "your Japanese is very good".
Eventually, we made it. Albeit with some difficulty and some acrobatic hostel-cooking from supermarket scratches, we managed to stuff our bellies. And meanwhile, we hitched 1300km in 10 days from Nagasaki to Tokyo. The biggest sin we committed was believing that we would never succeed to hitch all the way to Tokyo on time, so booked a night bus from Nagoya, but while trying to hitch a ride to Nagoya we got a ride straight to Tokyo that we couldn't refuse (the truck driver was not going to stop in Nagoya). For a moment, we thought we could get our money back, as we were told, but it didn't work out. That's the price we miscreants had to pay for not believing that our thumb could really take us anywhere.
Format: